Content of Chapter 1

1.1 Introduction

1.2 Methodology

1.3 Structure and Objectives of this Paper

1.4 Personal Motivation

1.5 The Definition of Disability


1.1 Introduction
The last 30-40 years were marked by massive changes in business society. Many of these can be summarized under the term of diversity. The integration of former minorities brought higher productivity for business.

Still, it cannot be said that the integration, for instance of women, is finally solved, although chances for women have been widely encouraged. In Germany a survey highlighted the fact that over 50% of polled employers think that this discrimination is caused by men who make it very difficult for women to enter higher positions. (Capital 8/2005 p.16 Translation)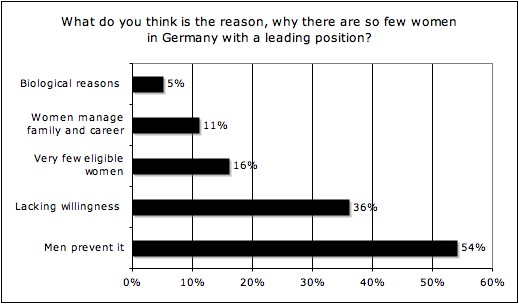 Figure 1: Women in leading Positions (Source: Capital 8/2005) (1.)

Another minority instance are elderly people, which are often excluded from business and social life, even though when these discriminations are not rationally reasonable.

This dissertation discusses the integration of disabled people and its' different aspects. The idea is to make the process become one step further through the integration of disabled people in working society. This approach is based on economical performance. The work aims a link of modern ideas of intelligence with personal attitudes and a benefit for the environment to reach a win/win situation.
1. Footnote: "Between the 22nd of February and 7th of March 2005, the institute for demoscopy ("Institut fuer Demoskopie") in Allenbach (Germany) interviewed for Capital approximately 500 top managers, top politicians and authority leaders." (Capital 8/2005 p.16 Translation 1) Back to Context

1.2 Methodology
This dissertation is a deepening of my seminar work, as we covered in 'Law of Employment' discrimination, in 'Managing the Economy' unemployment and in 'Management Development' self-development. In general this dissertation is based on secondary recourses found in academic textbooks, journal articles, surveys, and reports, but also some information from more practical guidelines, in printed form as well as from the Internet. On some topics, such as the legislation or the economical aspect, it was hard to choose, as there is a lot of interesting information, but my word count is limited. It was much harder to find relevant information, of the main approach. The whole dissertation might have grown to an interesting doctorate, as there were no sources found which were covering the link between business performance and the disability issue.

There is no primary research included as the information supply to most subjects are huge and the main act was to filter important information for my purpose. Yet discussions with relatives, fellow students and friends, as well as with my dissertation supervisor, were made to discover this issue.

References and bibliography 'Anglia house style' are used for this presentation. Figures and added material are selected in the first part of the appendix. Translations are displayed in the second part of the appendix.

1.3 Structure and Objectives of this Paper
The work is structured from the very dry topic of the law aspect to economical aspects and than to social and psychological aspects, which should give an enhancing pleasure to read.

The objectives of this work are:

to show, what disability is,

what discrimination means,

what need to be changed, and

to show a different perspective.

Nonetheless business performance is kept in the back of the mind. The disability issue is explained and discussed in the following steps:
The UK legislation is often changing, caused by new EU directives. The DDA has many different aspects, but the focus lays in this simple introduction.

The author will then describe the practical meaning of disability discrimination, first from economical, second from social point of view. In this context, some supporting documents will be presented to show the current integration-process. The objective is to highlight, which economical and social results of current western behaviour are provoked by the disability issue.

As the integration of disabled people in business society is staggering, threats must be a reason for a company to exclude them. The goal is to clarify what threats there are and in which circumstances they appear.

The summit of this dissertation is to show the opportunities that emerge inside a company regarding the disability issue.

The aim of the conclusion is to show that the repression in our society should be turned into an opportunity.

1.4 Personal Motivation
During work experiences in my civil service, an apprenticeship over two year in full time and diverse part time jobs it came very clear that I want to become my own boss. Most managers have problems to cope with staff, what frustrated me and affected my performance. My conclusion was that with my own company I could reach a 'value added,' which means, working for me is not only stress but also life.

Yet to succeed in business the performance is important. My business will be in the bicycle market. In there profits are difficult to reach. This is caused by cheap labour competition from 'Far East.' The other possibility (the high quality segment) is relatively small and additionally highly competitive.

This dissertation is made as a handbook for myself in later years to remind myself about the objectives, as I think we all have social responsibility. But how can we make use oft these objectives? Somehow I know that there must be a relationship between the integration of disabled people in business society and the business performance.

1.5 The Definition of Disability
Generally the term disability can be broken down into four different categories:
Physical impairments, affecting the movement.

Sensory impairments, such as visual impairments.

Cognitive impairments, such as Autism.

Psychiatric conditions, such as Depression.

Estimated, only as little as 48% of people that strike this definition call themselves as disabled (drc-gb.org/knowyourrights). The reader should consider that this definition is not restricted to what causes the disability, that means if the impairment is caused by an accident, sickness or experienced from birth. As only as 17% of all disabilities in the UK are experienced from birth. (drc-gb.org/knowyourrights) The reader should consider that the risk to become disabled throughout life is much higher than experience a disability from birth.

Furthermore, there are many different disabilities. Most of them are not visible. Discrimination on unseen disabilities occurs much less than discrimination on people with visible disabilities. As discrimination is in this dissertation an important aspect the reader should keep in mind disabilities, which are visible, such as blindness or use of wheelchairs.


Figure 1: Disability Signs (Source: Internet; copyright owner not known.)